In Part One we arrived in Tokyo and did some walking, shopping, eating and the like. There's move of the same here, so if you got bored in Part One then Part Two is not for you. However, if you thought Part One was super, then you're in for a treat…first up is hipster central.
Day 5 – Shimokitazawa and Kichijoji
So, this day might end up seeming like we didn't do quite so much. We often have a day when we chill out for a bit, and today was that day (sort of)…I mean we even slept until the alarm woke us up, which is almost unheard of.
Now's probably a good chance to talk about breakfast…we always have breakfast in the room before we head out into the wilds of Tokyo. Hold on though, don't we always then have another breakfast…yes, yes we do. How do you think we can walk so far! Anyway, breakfast in the room is generally secured at a konbini the night beforehand, mostly involves rice balls (for me) and breaded goods (for A), plus yoghurt, coffee and whatever else we can lay our hands on…sometimes that includes jelly!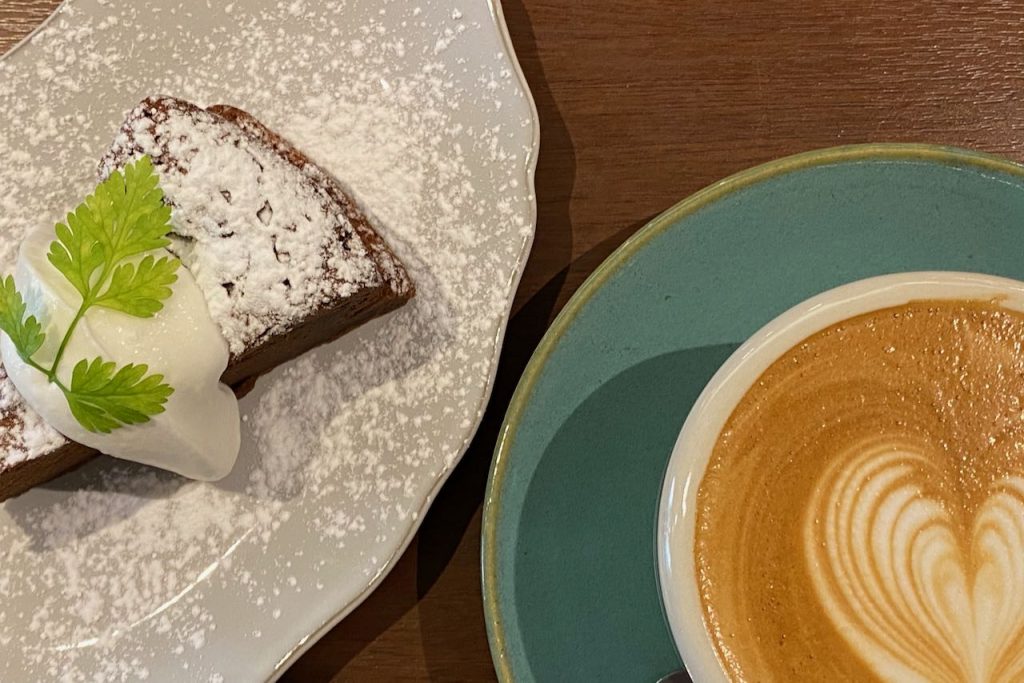 After our hotel breakfast we headed from Ikebukuro to Shibuya using our new favourite Fukutoshin line…except we didn't make it to Shibuya because (horror) the train was cancelled at Shinjuku-sanchome. We were pleased to see that all the locals were as horrified as we were. After a moment's recovery, we walked to Shinjuku and got the Odakyu line to Shimokitazawa. Much has been written about Shimokita, and it is all true. Its a wonderful low-rise neighbourhood packed with quirky shops and cafes, and full of the cream of Tokyo's hipsters.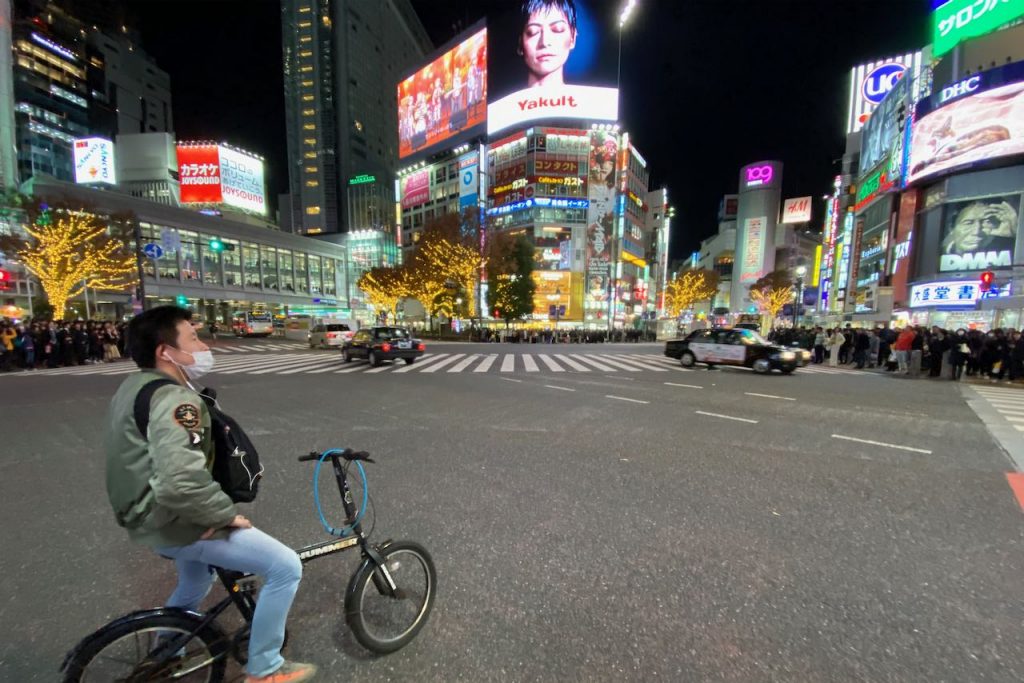 After a wander through some of the backstreets, looking at fancy houses, we went to a coffee shop called The Usual, which is really nice and friendly. Super coffee was purchased and quick delightful cake…for our SECOND breakfast! We needed the strength because next up was the local branch of Village Vanguard, which is blooming great. We actually didn't buy much but really enjoyed poking around all the nooks and crannies (if you have kids you might was to scout ahead just in case the more…dubious stock is just around the corner. VV also has a fine selection of capsule machines so we threw coins at those as well.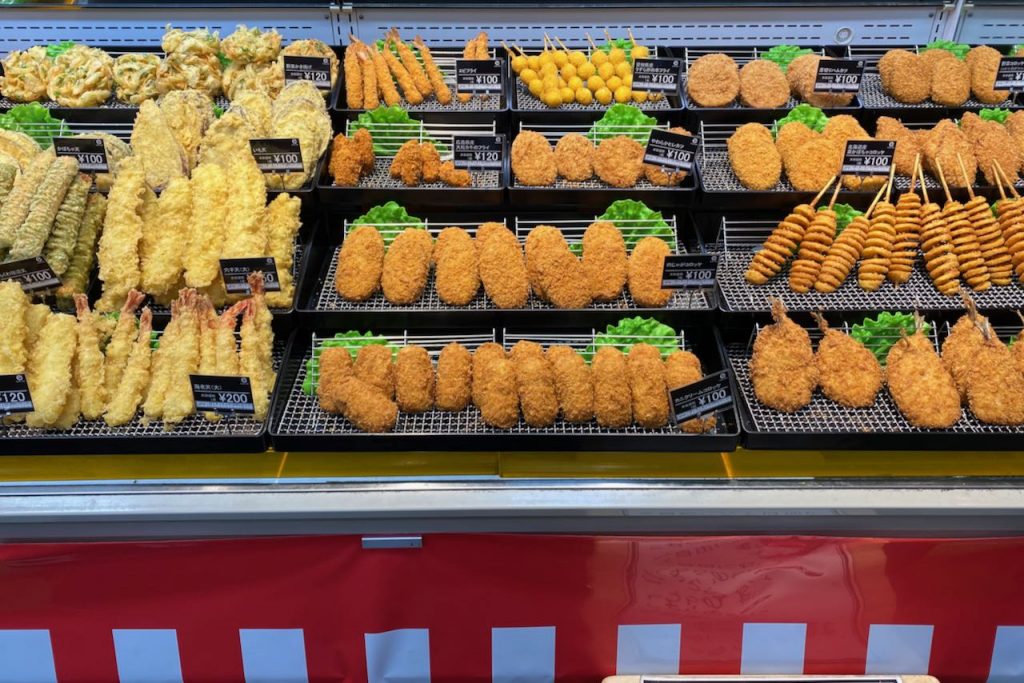 We then went to the Ozeki supermarket, and found our way to the first floor (second if you're American and foolish) and purchased all the bento for a picnic. The selection was absolutely brilliant, and pretty cheap, including some very tempting fried stuff. For some reason, not entirely clear, we bought more healthy stuff…particularly me as this gave me one of the few chances to get some sashimi into my face. Following short diversion to a 100¥ store to buy implements we then had lunch at a lovely little park…Donguri Hiroba Park is memory serves.
After lunch, A then disappeared into another 100¥ store, which was huge and exciting and much stuff was purchased. Whilst that happened, I took a few pinholes, but you'll need to wait for my posts over on my portfolio site to see those. We then had to leave Shimokita, still fairly convinced we'd not really explored properly, as we had a date with a food tour in Kichijoji.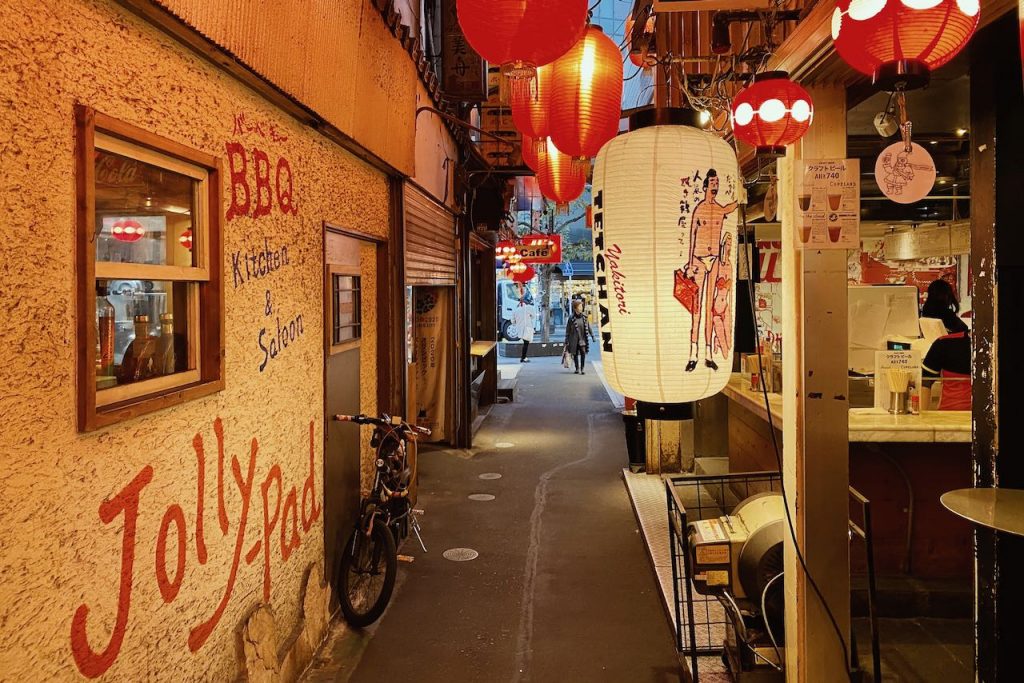 Kichijoji is another stylish and liveable district, and we were really impressed by what little we saw of it during our walk to Light Up Coffee for some very excellent caffienation (interested in coffee in Japan, then check out my earlier post here). After coffee we wandered back to the station to meet Giulia from Ninja Food Tours. We were booked on the Hidden Pub Tour and it was really excellent. Giulia introduced us to various izakaya that we'd probably never have visited if we were on our own. We stuff so much great stuff in our faces, and drunk some tasty beverages as well. The 3.5 hours flew by, and I can only recommend this tour (and I guess any of the others). Be prepared to be a little adventurous in what you eat and you'll have a blast.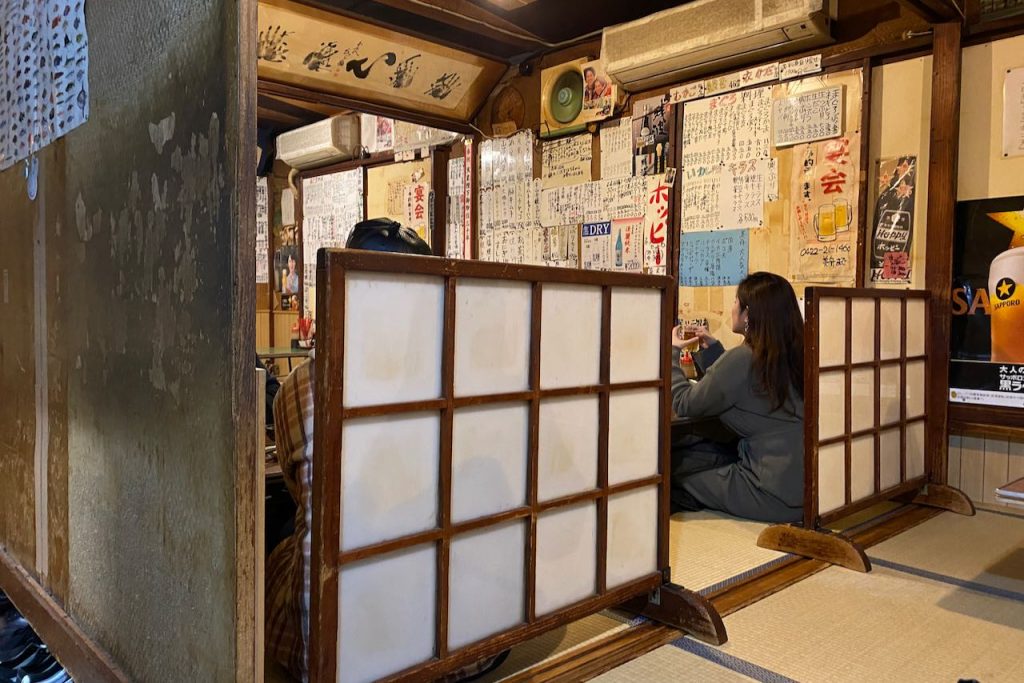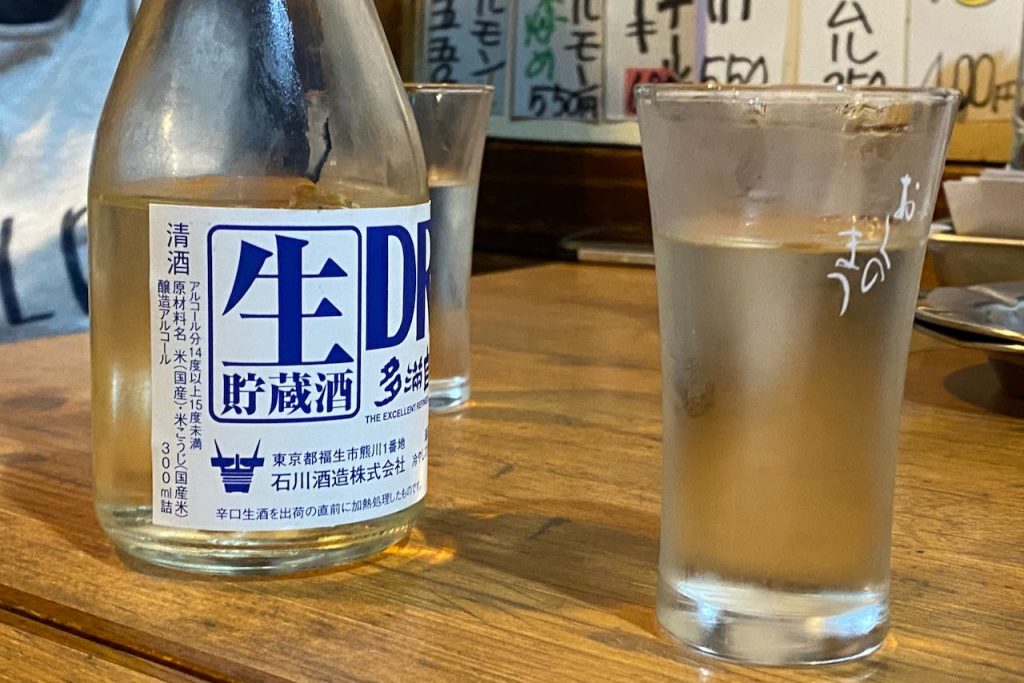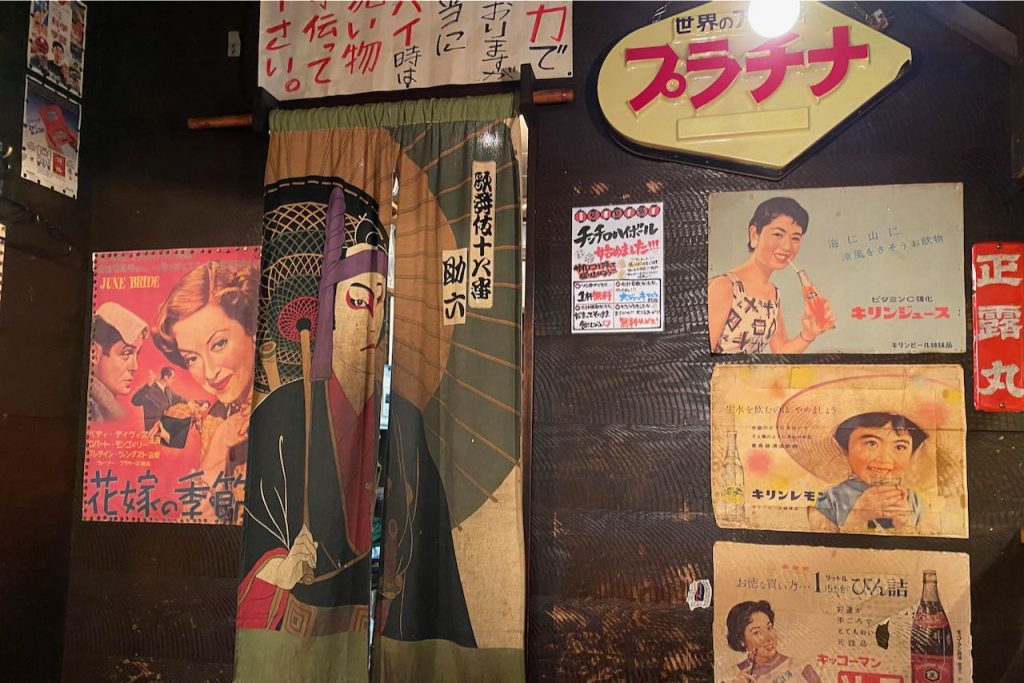 Day 6 – Enoshima and Kamakura
Today we headed to the very wonderful Shonan coast. We took a, initially, packed Shonan-Shinjuku line train to Ofuna and then changed to the brilliant Shonan monorail. Now, you can take the Shonan-Shinjuku further, but why would you want to when you can take a rollercoaster trip on a suspended monorail high above the streets of Japan. Its a great experience, and do remember to take a journal or some paper as you can get some very cool stamps at the stations. There's a little bit about the monorail, and the Eno-Den in a post about our prior trip to Tokyo.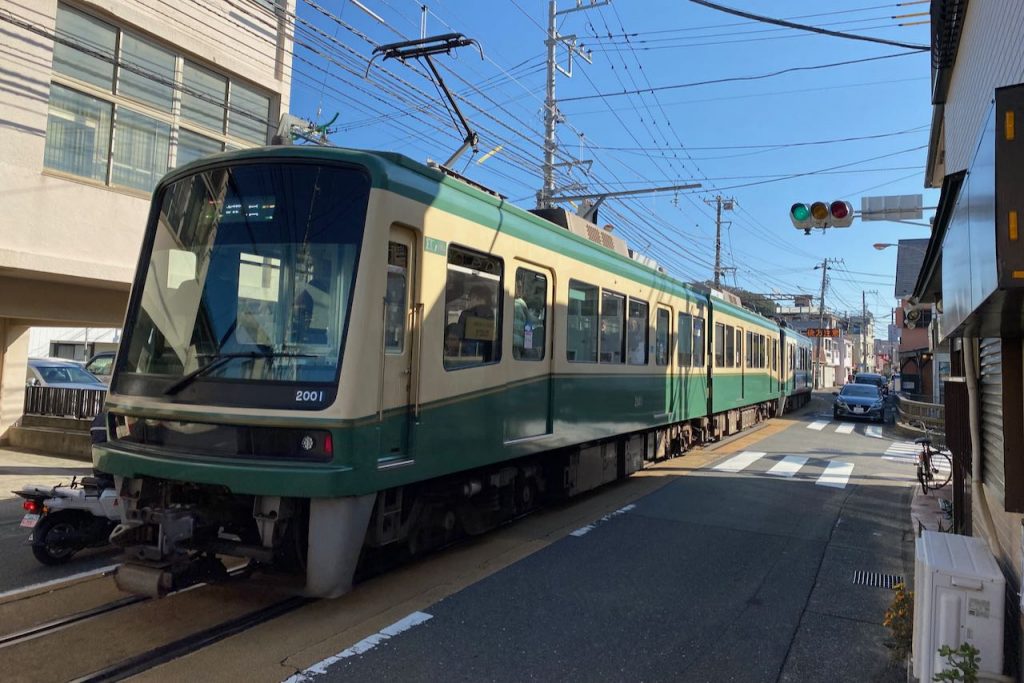 One we got to Enoshima, first stop was a coffee right next to the Eno-Den tracks at Street Cafe Reto, which again we really enjoyed (coffee is really strong, melon-pan was marvellous). We then wandered the streets of Enoshima, taking note of the many tidal wave warnings, and headed to the beach for a little bit of a wander, surf watch and beach comb. We then continued to wander the streets of Enoshima, just enjoying the laid back vibe and ever-wonderful aesthetics of Japanese houses. Our eventual destination was Piggy's Kitchen near Koshigoe station…I had the best omurice I have ever had and A's fried chicken was fab as well. Piggy's was super friendly, and the Star Wars theme was a bonus, we'll definitely go back if we have the chance.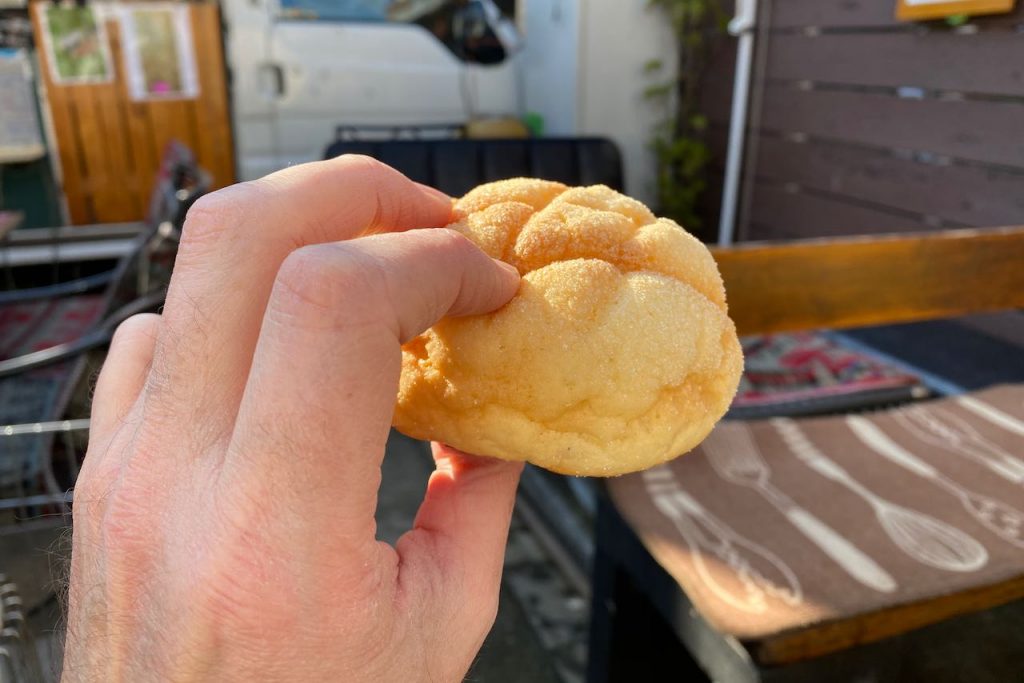 After lunch we then temple hopped, starting at Koyurugi and then up to Manpukuji, both of which were lovely and quiet. We then got back on the Enoden at Kamakurakoko-Mae and headed to Gokurakuji station, mainly so I could run across a bridge that features in the wonderful movie Our Little Sister. I was determined to find their house but failed miserably, if anyone reading this knows where it is then please let me know. After failing to find their house, we then walked through to the very lovely Mitama shrine and then through the backstreets (again) to the main drag heading to the big Buddha at Hase. The crowds there were a shock so we didn't dally and instead headed for more coffee in downtown Kamakura (at Maruyama coffee – again pretty decent).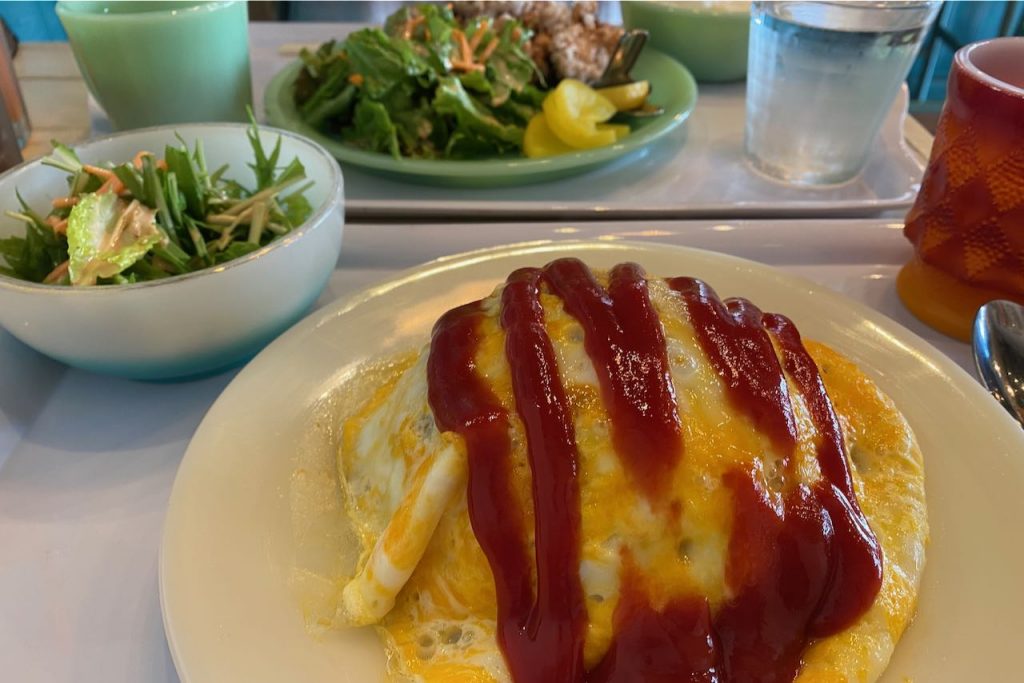 We then headed back to Ikebukuro, via a stop in Shibuya for A to shop and for me to do my usual attempt to pinhole the scramble, this time at night (and not so successfully). We then got off the final train at Zoshigaya and wandered through the Kishimojin district, which was amazing at night, before going to the Seibu food hall for in-room dining (more sashimi, more katsu-sando, more beer, more sake).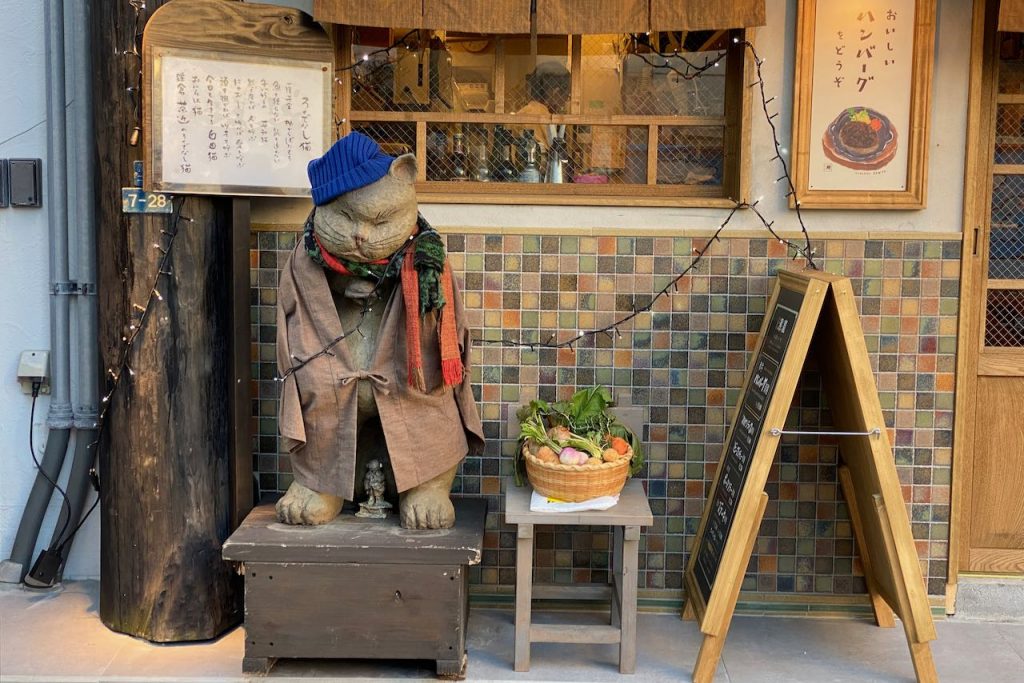 Day 7 – Ueno and Yanaka
Sadly the day didn't start so well, as British politics got in the way of our morning hotel room breakfast, but that was soon forgotten as we headed for second breakfast at Coffee Valley (honey toast…yum!). We got to Ueno my way of Asakusa, and the Kamiromon Gate at Senso-ji (which was heaving with people), and then on down Kappabashi-dori, which is where you can buy food models, knives and all sorts of catering related fun (definitely worth a wander).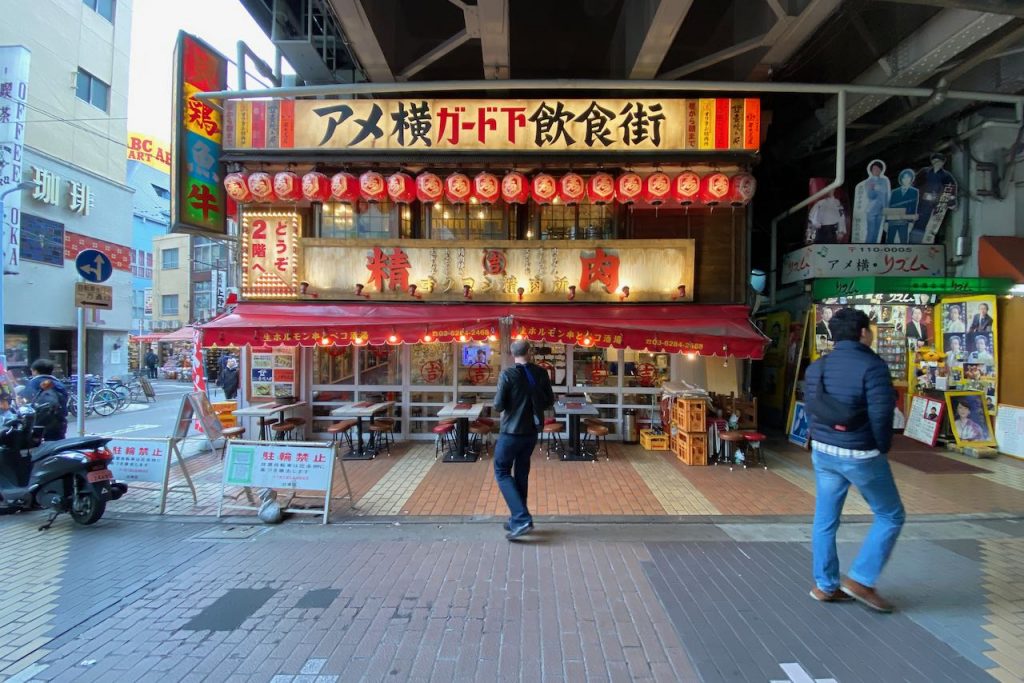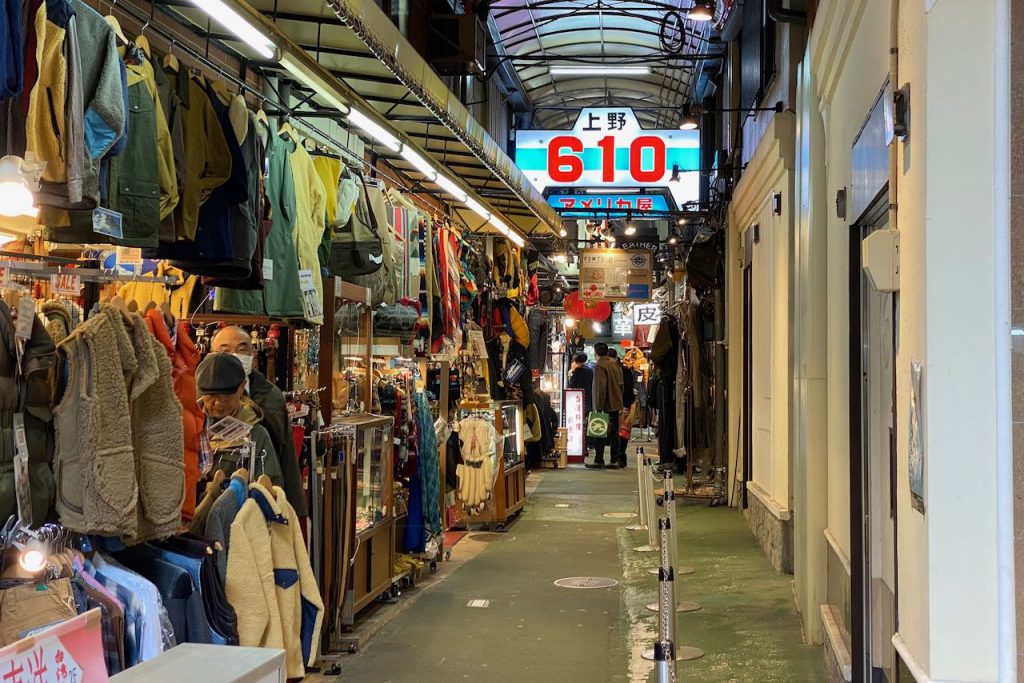 Ueno itself is home to a wonderful park, the zoo, and excellent museums…none of which were of interest as we were there for the amazing Ameyokocho and the even more amazing Hinoya. If you like Japanese denim and clothes in general then this is the place for you. They've always been really wonderful whenever we visit, and this time was no exception (and of course shopping was done). They also can recommend great places for lunch, this time Go Go Curry (Japanese curry is fabulous), which was rough and ready and tasty as hell.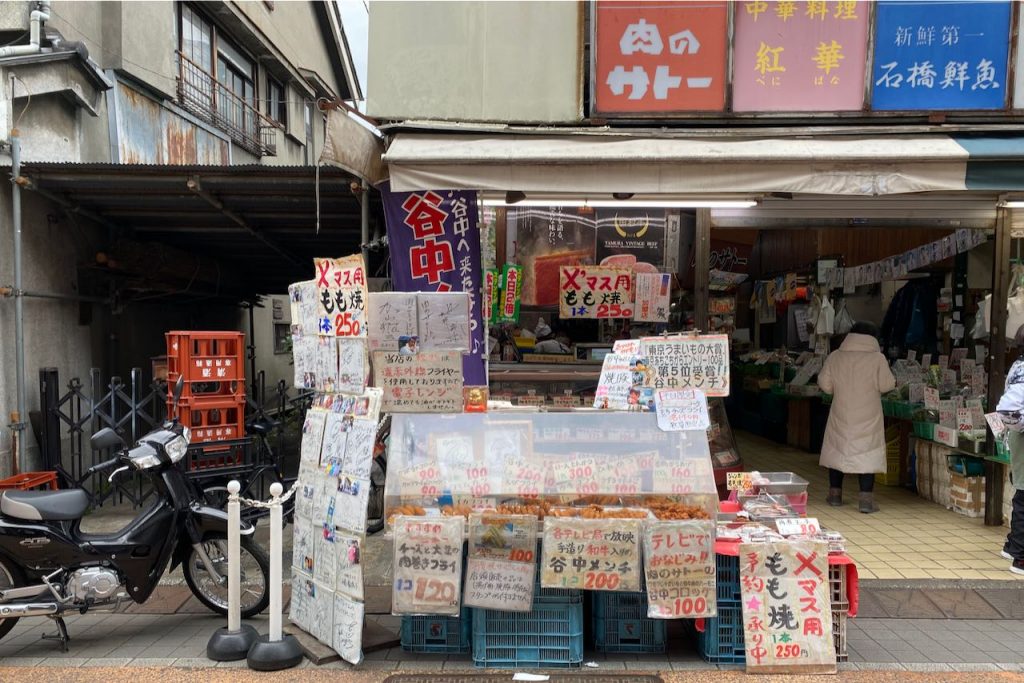 After lunch we wandered through to Yanaka (via a little bit of Ueno park, with full autumn leaves on show), which we had visited on our first trip albeit briefly and the brilliant Yanaka-Ginza. This is yet another shopping street, and it was really wonderful, lots of quirky shops…and some great coffee (Yanaka Coffee…obvs). There was a lot of fried food available in Yanaka, which weirdly we did not try (still full of curry) as well as a few pet shops, including one for dogs with a door-handle shaped like a bone. We eventually got to Nippori station and got the Yamanote line back to Ikebukuro.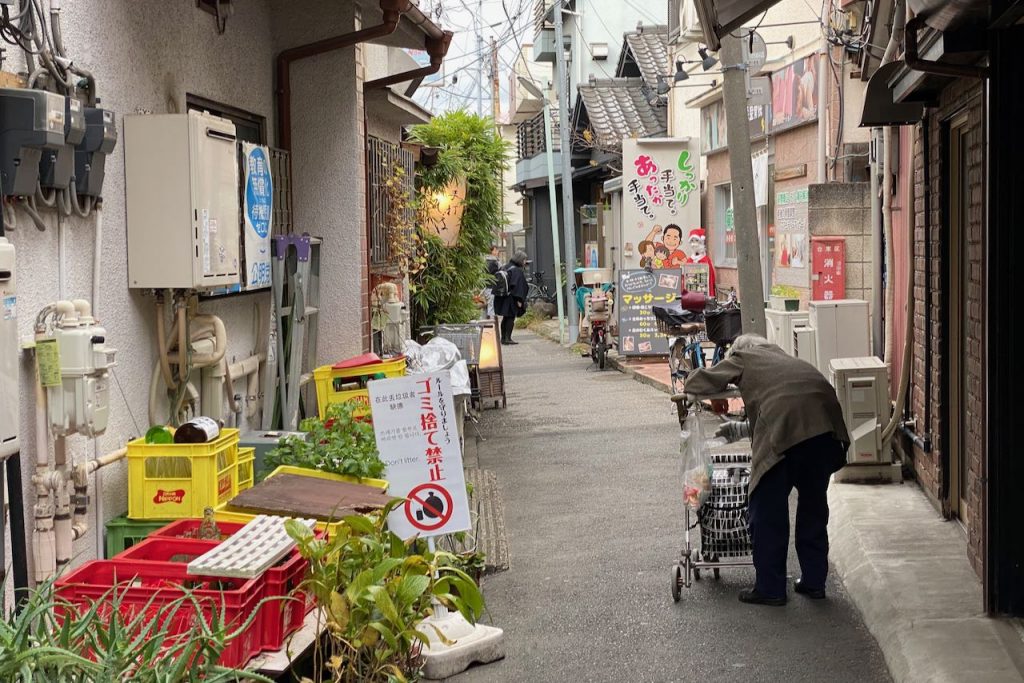 After dumping stuff at the hotel, we then headed to Otome Road to see what all the fuss was about. Five minutes later we headed back to Tokyu Hands (A) and to the arcades with all the crane machines (me – gosh it was loud). The on to Mermaid Cafe and then for serious shopping around Ikebukuro station (Loft, Muji, Bic Camera etc etc). Somewhere in amongst all of this I had a wonderful taiyaki from a hole in the wall place (super friendly) before we headed for pizza at a place in the restaurant floor of the Lumine building.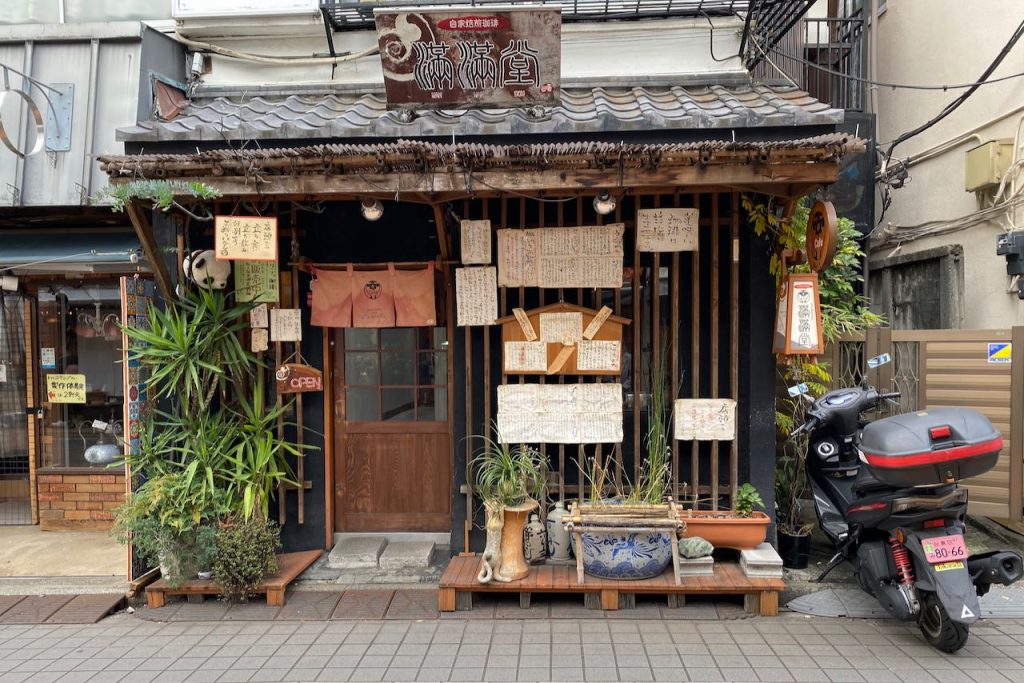 Day 8 – Jpop and Walking…Lots of Walking
Our last day was a biggy, and I am not sure I can really do it justice, but let's try. After the usual hotel room breakfast, we headed to Single-O in Ryogoku for a really excellent flat white. There was no food, so we carried on from there to the very lovely Oyokokawa Park, where we were greeted by families enjoying their weekend, and foxy dogs being kawaii. We then went to a Tully's for a proper second breakfast (avocado hot dog for me) so the morning wasn't a complete write off.
We were in Kinshicho for just one thing, a mini-live featuring Kai, Saka-Sama and RAY!!! This did not disappoint, we'd already seen Kai and Saka-Sama on Day 3, which I forgot to mention in the last post. Let me try and describe each of these very wonderful, slightly different idols.
First up Kai, who is really idol royalty having previously been in the very awesome There There Theres. As a solo artist she is super quirky, apparently very funny, and a great if somewhat odd performer. Add in some catchy tunes and you'd have to have a very hard heart not to be won over. Then you have the energetic assault that is Saka-Sama. They're one of those groups that have changed line-up frequently, but are just brilliant in the current two person version. Honestly you have to check them out for yourself to really understand the energy they bring to the stage, and they look like they're having a blast as well.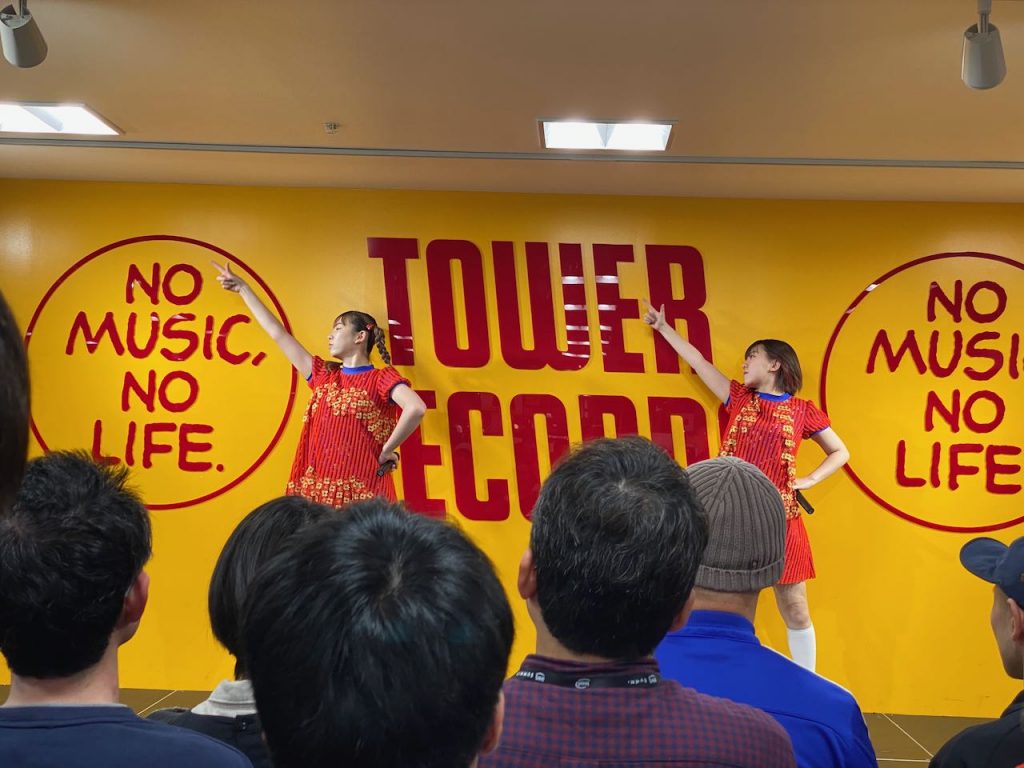 Finally to RAY, who are the evolution of the sadly now defunct ……… (or Dots to you and me). RAY are a shoegaze idol band, with some killer songwriters (including from For Tracy Hyde and Ringo Deathstar). So, you have pop and shoegaze, which is pretty much made for a geek like me. Add to that a cover of my favourite Dots song (Satellite, from my favourite album of 2018).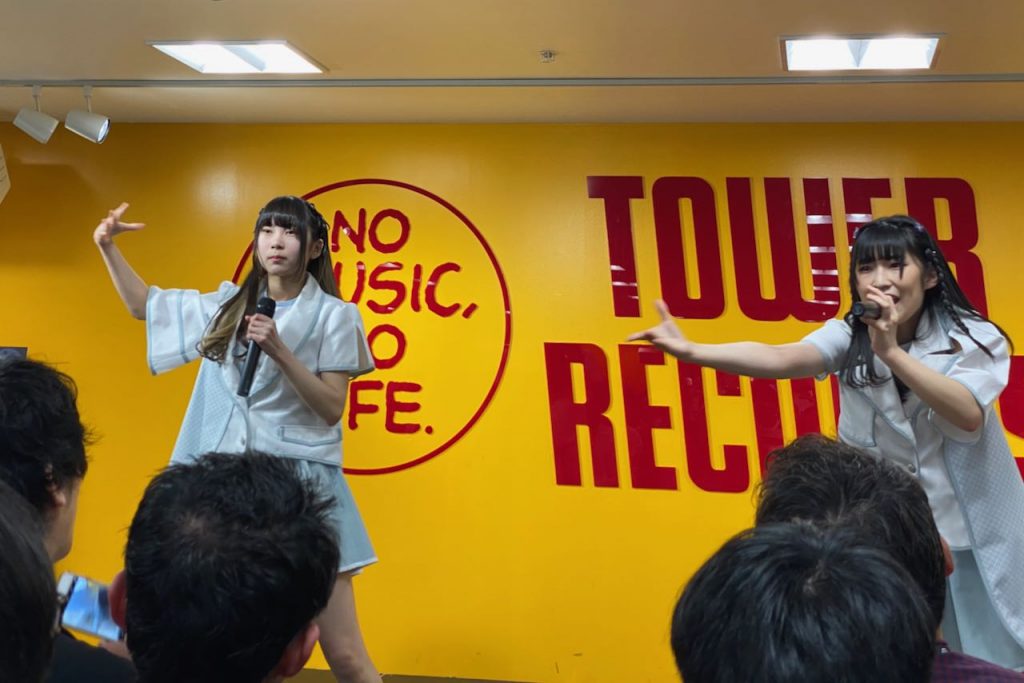 Thouroghly exhausted (and this was all before lunch), we did the only thing we could do, which was to head to a park and shove curry-pan in our face. WHY HAVE WE NEVER HAD THIS??? Curry-pan is a bread, filled with curry and then fried…it is as awesome as it sounds…actually it is better.
After stuffing ourselves, we headed to Iidabashi and wandered through one of our favourites districts, Kagurazaka. This is such a wonderful part of town, lovely backstreets, a big tooth, crepes and a stunning modernist shrine. Definitely a part to visit if you are in town, and just want to get lost. We then took a really long final walk from Kagurazaka back to Ikebukuro.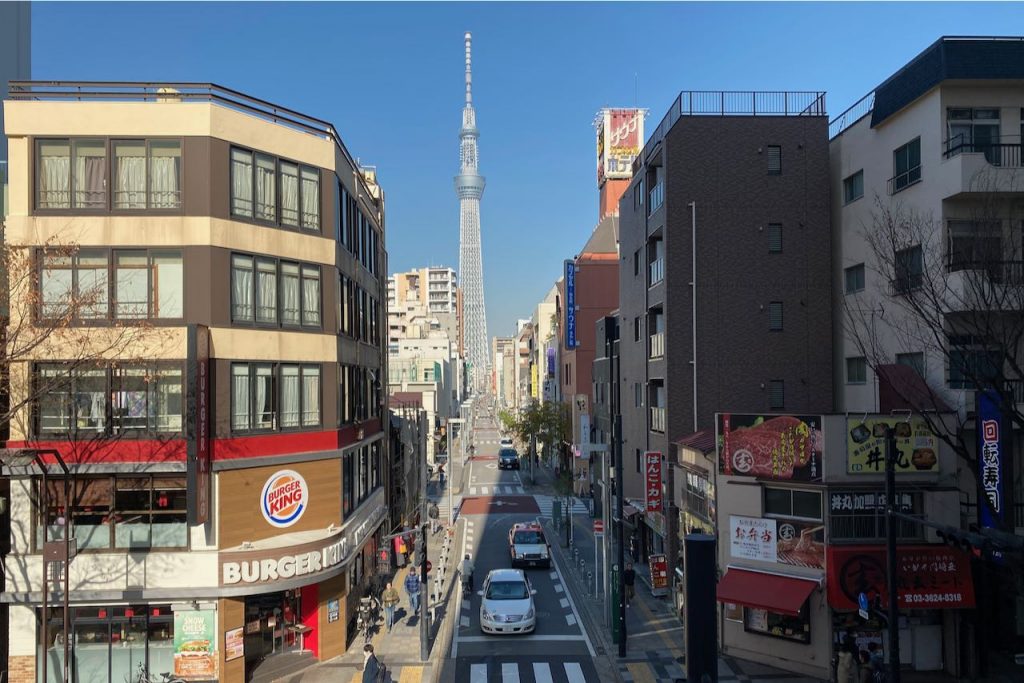 We started by heading to Edogawabashi (past a lot of small printers) and then crossed the river at the Otaki bridge, near a really lovely park. From there we wandered along the river and past the Higo-Hosokawa garden (we didn't stop) and past a fancy hotel and got surprised by a very steep hill near Tokyo Women's University (later we found out this has featured in some famous anime). After climbing the hill we watched the sunset from the Mejiro-dai 1-chome playgound…and lovely it was too.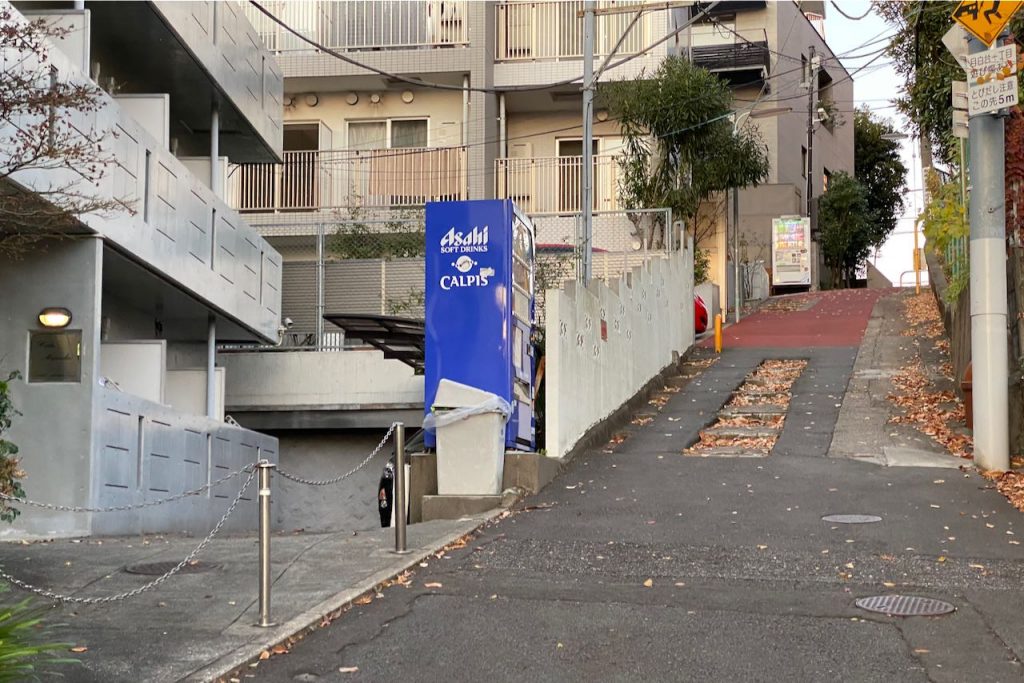 Then it was through to Zoshigaya, Kishimojin and through the cemetery near Azuma-dori to finally get to Coffee Valley, and a last wonderful brew. Then we just had to have a final taiyaki at the spot in the wall (its on Meiji-dori, opposite side from Mutekiya ramen – walking away from the station) before packing. Once the packing was done, we ended the trip in the way we started (as we always do) with yakitori at Akeyoshi. Bonkers as always, we stuffed ourselves before the inevitable come down of going home.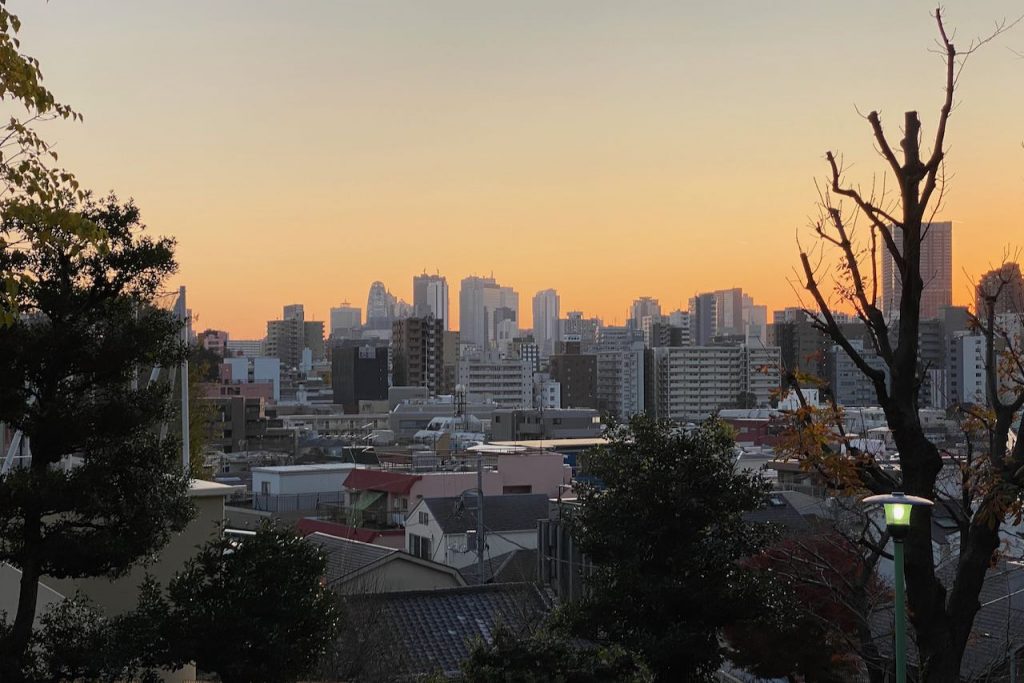 As I write this, it strikes me that I don't know when we'll make it back to Japan, as air-travel seems unlikely for some time unless really essential. When normality does return after the pandemic we will be back, and we can only hope that all the wonderful small business we have visited remain…one thing that is for sure is that the warmth and friendliness of the Japanese will be a constant. Until then we have some amazing memories to fall back on. Take care kids, and don't hesitate to contact me if you want any advice about visiting this wonderful country.