Coffee in Japan is very much a personal guide to my favourite coffee shops that I have visited in Japan in the course of multiple trips. This is by no means exhaustive, and whilst the focus is shops that could likely be considered "Third Wave" that is not to the exclusion of other places (if I like them).
I'll also present this in some kind of geographical order, going southwest from Tokyo…partly because Tokyo is likely to be the entry point for many and partly because I've never been to the northeast of Tokyo.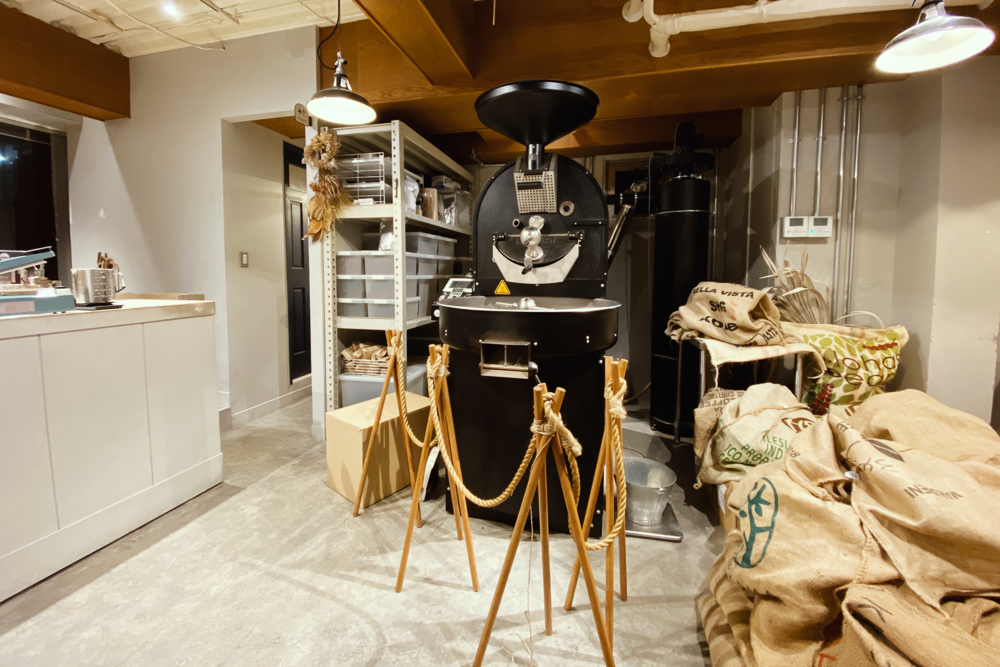 At home I normally drink either a flat white or a filter, but in Japan I generally have a cappuccino as flatties are pretty rare in my experience.
Tokyo
We'll start in Ikebukuro, because that's where I always stay; it is awesome!
…and then we'll move on to other parts of the city
Coffee Valley, Ikebukuro
This is a really nice shop to the east side of Ikebukuro Station, close to but not adjacent to Minami-Ikebukuro Park. The shop is on two, and sometimes (if busy) three levels, with the top floor also holding their roaster. You take a seat before ordering (and there might be a little wait) and then pick up from the counter.
Coffee is a mix of expresso-based or filter, with a choice of bean usually available (with the baristas happy to offer recommendations based on your taste). Cappucino is velvety smooth and well-balanced in my experience; I have not tried the filter.
Food is nice as well, and you get a slightly more modern take on the breakfast set that you'll get in so many of the more traditional Kissaten (which I won't explain here; a quick search will tell you all you need to know). I particularly enjoyed their take on a croque monsieur.
Blue Bottle, Ikebukuro
One thing that is really common in Tokyo is outposts of western coffee chains, there are Starbucks everywhere (which are as you'd expect). Blue Bottle is one such outpost, and there are a few scattered around Tokyo. This shop is small, with just a few seats, but it is directly opposite Minami-Ikebukuro Park so you can grab your brew and sit outside, which we found to be pleasant even in December.
Coffee is of the quality you'd expect; well-made and balanced…and the cappuccino was always good when we tried it.
Komeda's Coffee, Ikebukuro
This is a local chain from, I believe, Nagoya, and is much closer to a traditional Kissaten. You're not going to come here for the coffee, which is fine but definitely not third wave. However, what you will get here is a breakfast set, which is a staple across Japan and usually will come with a thick slice of toast and a hard-boiled egg. This can be delicious, as it is at Komeda's, and the perfect start to the day (or second breakfast after an onigiri!).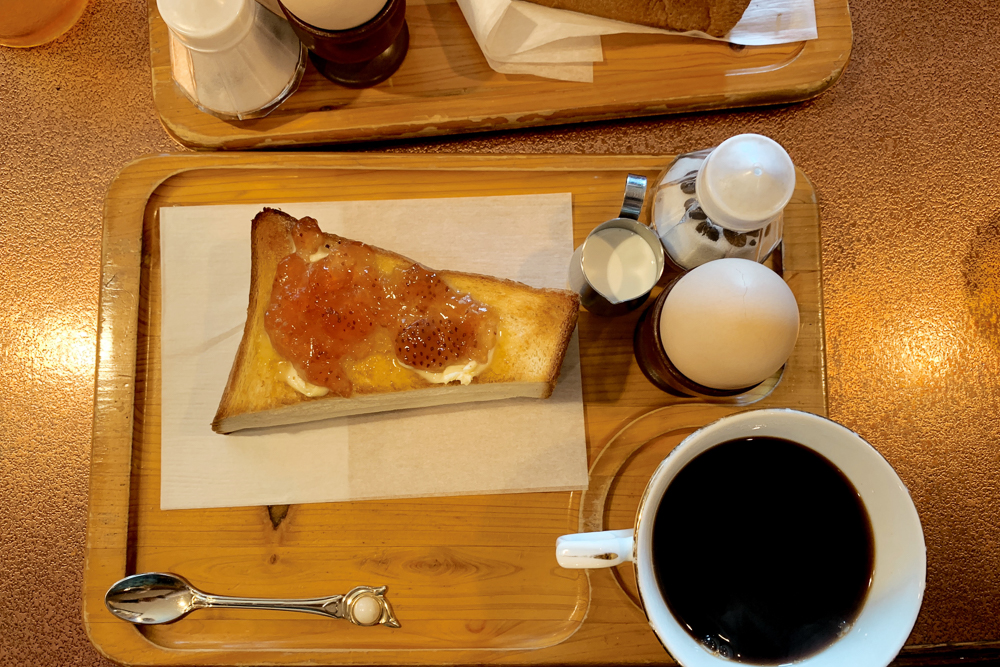 Fuglen, Shibuya
Another outpost of a western shop, this time from Norway. Fuglen is a little off the beaten track; but is well worth seeking out. The shop is beautifully decorated with mid-century furniture and when we visited there was jazz tinkling away on vinyl in the background.
Cappuccino here is tasty, but you get the offer of a single or a double shot. We took the single, which actually was great but might not be strong enough for some. Based on the single though, I suspect the double might have been a little too strong for our tastes but who knows.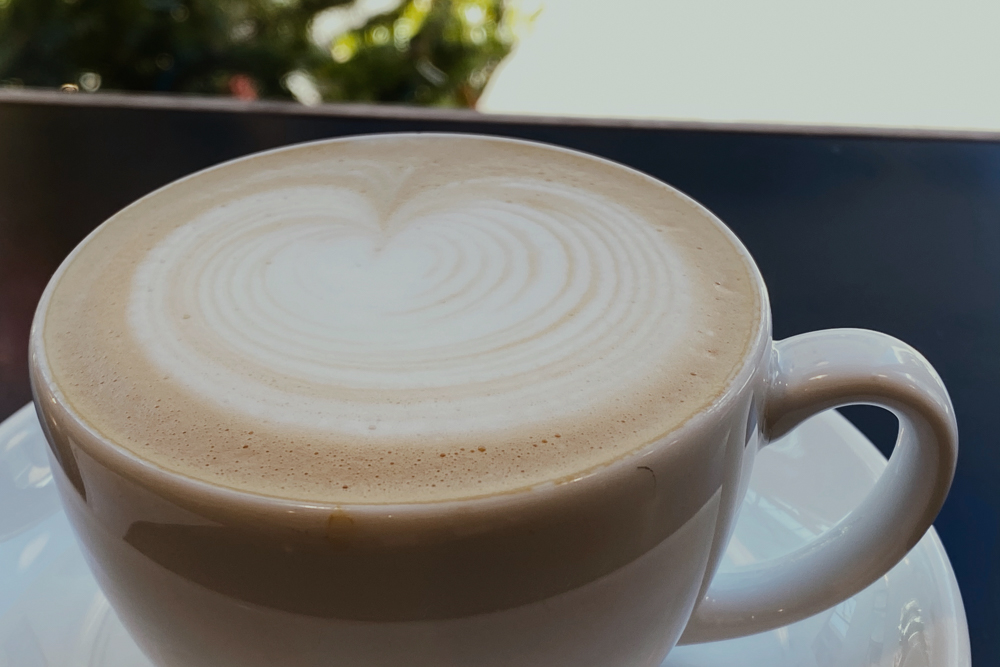 Fuglen also, like many shops, sells their own beans – which are excellently roasted and a great souvenir of your trip if you like that sort of thing.
Good Town Doughnuts, Harajuku
Really you're going to come here for the doughnuts, which are excellent, but actually the coffee is pretty decent (I had an expresso tonic, which was the perfect pick me up after a long walk).
It's in the heart of Harajuku so come expecting a line, you might get lucky and get in straight away, but I wouldn't count on it at the weekend.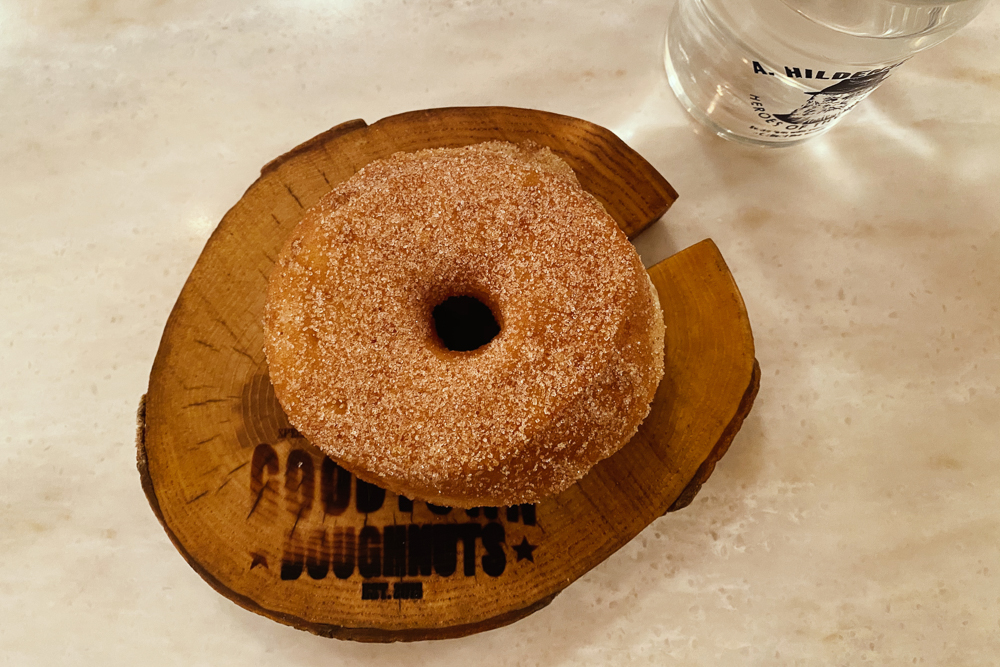 Onibus Coffee, Naka-Meguro
Excellent coffee stand (with a few outdoor seats) right next to Naka-Meguro station, which is a perfect stop to refresh and recharge after pounding the nearby streets. Oh, and this is another place where you can pick up some excellently roasted beans.
The local area is well worth exploring, lots of nice shops and the canal to explore, plus there's also another stop just down the street…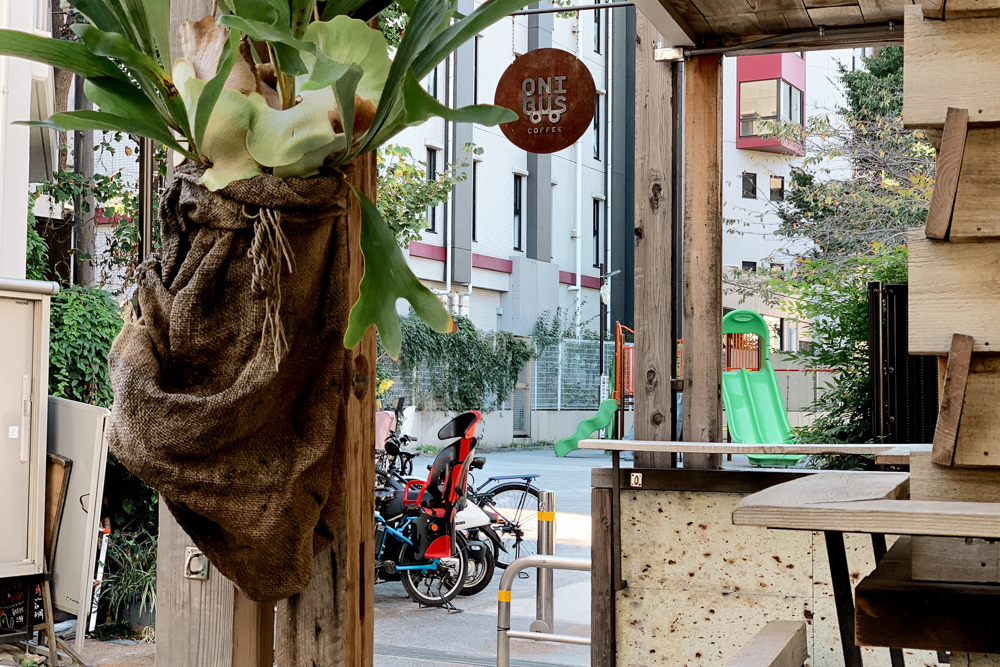 Sidewalk Stand, Nakameguro
…and this is the second spot we've checked out in Naka-Meguro. Again it's tiny; but it's right on the canal so you can grab a brew to go and enjoy the calm atmosphere just outside the shop. As I remember (it was a few years' ago) the coffee is really nice and the people were super cool.
The Usual, Shimokitazawa
There's loads of shops in the hipster haven of Shimo-Kitazawa, including a branch of Light Up Coffee and the (in)famous Bear Pond Expresso (which I have not tried). The Usual is a wonderful stop IMHO, and well worth seeking out in between grabbing vintage clothing, vinyl etc at the local stores (or binging on gachapon at Village Vanguard).
Coffee is excellent, and service is standout friendly. However, the cakes are next level, and likely the main reason we'll keep going back – yum!
Light Up Coffee, Kichijoji
A new discovery during our last trip, and one of the few places where I have had a filter but not an espresso-based drink. The filter was excellent, really clean and with great notes of berries and fruit. The shop itself is fantastic, opposite a little shop, and very simply decorated. Service was lovely, and the area around the shop is really interesting and worth exploring (and the little detour to Kichijoji). Finally, you can again buy their own roasted beans, and when we visited they had tasting packs (3 x 100g bags) that were excellent value.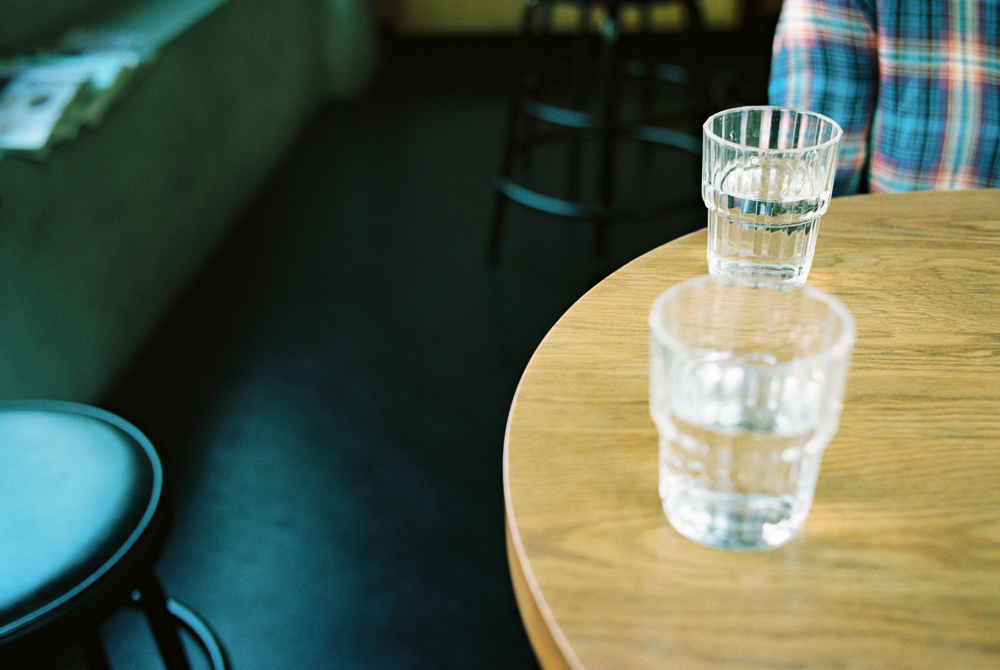 Single O, Sumida City
Apparently this shop is only open at the weekends & on Mondays, and acts as the roastery for the remainder of the week – this was a surprise to us (but luckily enough it was a Saturday when we visited). Styled as a tasting bar, this place was a real delight, tucked away in the back streets of Sumida City (near Ryogoku and the Edo-Tokyo Museum).
Here is one of the few places we've found where you can get a flat white, and it was excellent albeit a little stronger than some in the UK (probably that's the Aussie style – this is a Sydney based chain). Filter is on offer as well, from the superbly friendly Aussie-Japanese barista, and from the small sample we tried this would also be a great choice.
As well as buying beans, this is one of many places in Japan where you can buy drip bags. These are effectively single-use filters with pre-ground/weighed beans. Whilst not being hugely environmentally friendly they are often excellent (as Single-O's were) and a great option if you're travelling and don't want any more hotel bags.
Kyoto
Kyoto is also pretty much an essential stop for anyone in Japan, and whilst we've visited many times, I don't have so many recommendations. Not because the shops aren't there, but more because we have our favourites and are very much stuck in our ways.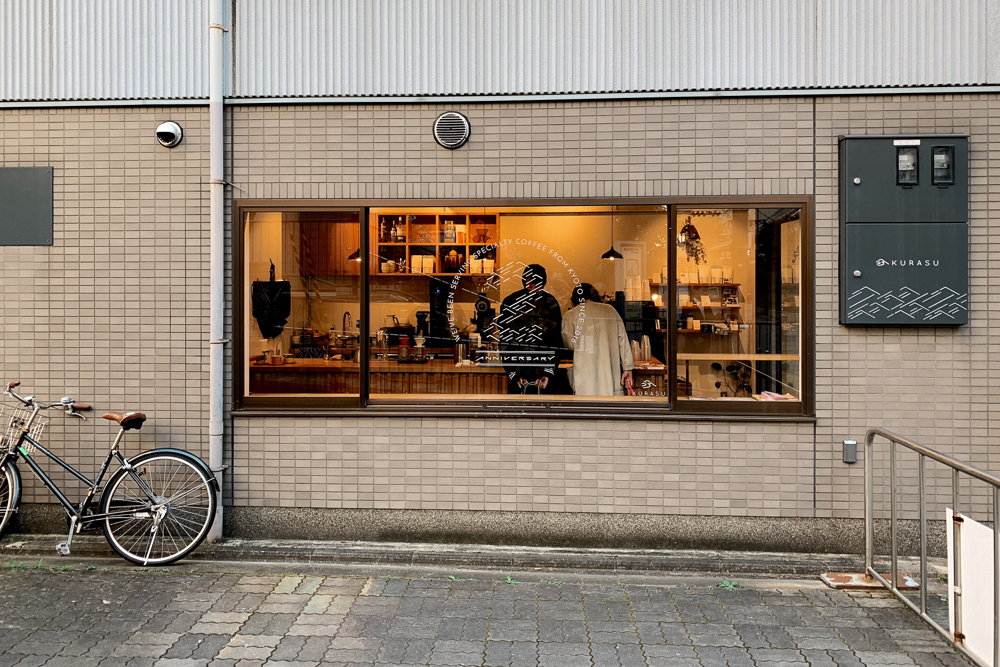 Kurasu
Kurasu now has, I believe, two shops – one near Kyoto station (which is the one we visited) and one near the Fushima Inari shrine. The shop near the station is relatively small, and again a little off the beaten path, and is well worth visiting. Filters are made with a ceramic V60 and are really excellent – you always know it will be good when you can see the care taken (and see one brew being rejected by the barista).
Kurasu also offers its own roasted beans, as well as those from other Japanese roasters (I picked up some from Kariomons when I visited) as well as a great selection of brewing equipment and interesting merchandise, all of which is also available on their website.
Ogawa Coffee
Not truly third wave, but we fell in love with Ogawa Coffee, and particularly the shop in Sanjo (just over the Kamo-gawa from Sanjo station). Ogawa offers excellent service, fantastic cakes and some of the cutest latte art we have seen in Japan (without resorting to that horrific egg-white stuff some places do).
As well as the espresso-based drinks they also offer an excellent filter (single origin is often with cup of excellence beans), which is served in exquisite cups. Overall, this is closer in style to a high-end Kissaten but it is so great that I'd definitely recommend the experience at least once if you're in the city.
Inoda Coffee
Definitely a more old-school place, think waiters in sharp suits and heavily branded cups, glasses, forks, spoons and cakes, but definitely a worthwhile stop in you're near Kiyomizu-dera. If nothing else, the setting is lovely with a beautiful garden just outside the main winder (which you can explore).
Coffee-wise, the filter is pretty decent (single origin, cup of excellence) and the service is spot on. Oh, and the cake is both seasonal and delicious.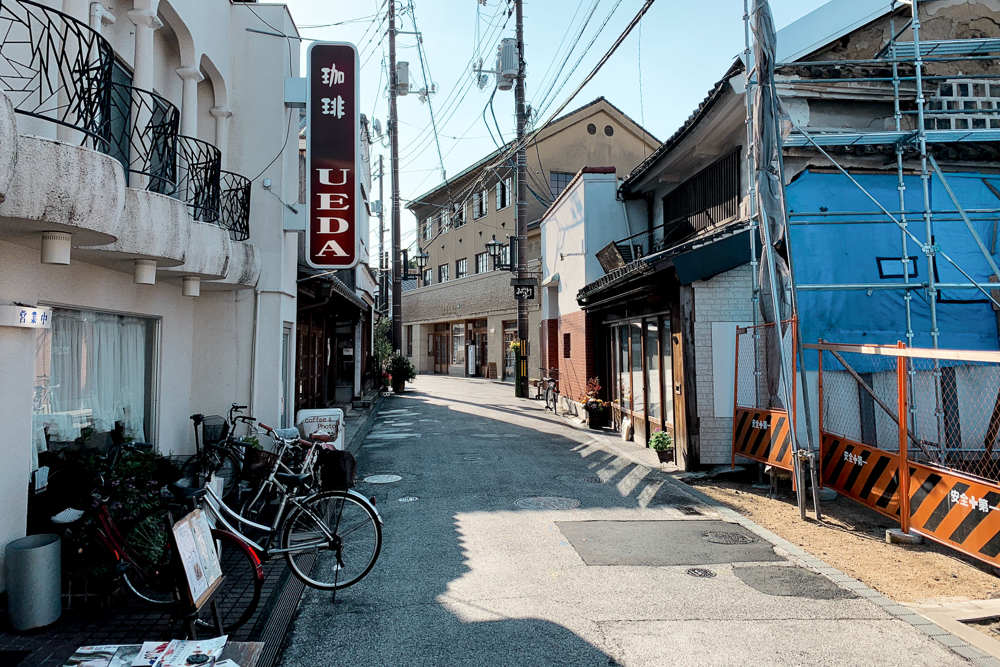 Nara
Obviously the main experience in Nara is being mugged by deer (I kid you not…check the video below) but there is excellent coffee to be found as well.
Rokumei Coffee
This was Rococo Coffee when we visited in 2016, so things may have changed a little…although their website is still Rococo so I'm guessing they've just changed the shop's name.
At the time, it was a really nice, albeit traditional, stop – with an excellent breakfast set. Filter was well made, with single origin cup of excellence beans, and service was great. We didn't try the espresso-based drinks but regardless this is a worthwhile spot to recover from having all your belongings seized!
Kurashiki
Café Ueda
Talking of old school, this place really doesn't have much reason to be on the list other than it is one of the most typical, and most charming, Kissaten we have been to. Seemingly owned by an Oba-chan, and offering all of the comforts you'd expect (newspapers, breakfast set etc) this is a wonderful space to experience some real old-world charm. Don't expect the coffee to be amazing (it will be strong), but everything else will (at least in our experience) be great.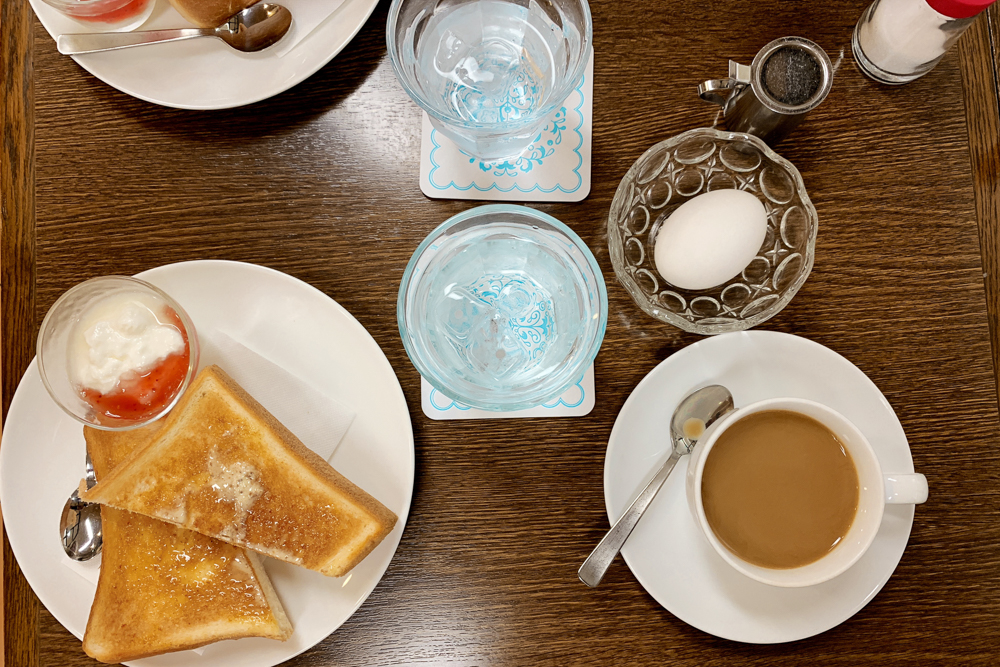 Fukuoka
Manu Coffee
Its been a couple of years since we visited Fukuoka, but I still warmly remember our visit to Manu Coffee (the Watanabedori shop). This is mainly because they offer something a little different, in that their coffee often comes with a little topping. In my case I had, as I remember, a "Mogwai" and it was topped with a little ground pistachio nut. Sounds a little odd I admit but it was excellent, truly excellent.
They're another shop that sells both beans and drip bags, and definitely worth seeking out if you're in the city.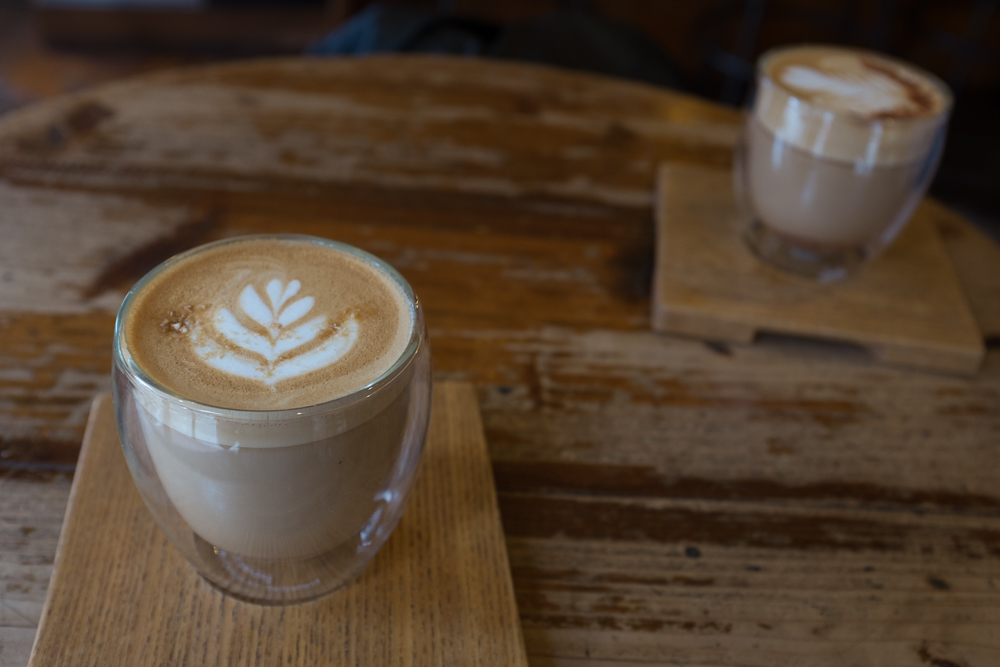 Café Miel
Part of the Honey Coffee (local) chain, and a bit of a pain as it is in an underground mall (the Sun Plaza Mall) near Hakata station, this is another spot that's more on the traditional side of things. We had excellent filters when we visited for breakfast, but more importantly I had one of the greatest sandwiches I have ever eaten. This was a cheese and nori toasted sandwich and it was absolutely wonderful – check it out if you're in town.
Kumamoto
And Coffee Roasters
Located in the very wonderful backstreets near the covered mall (and near some excellent ramen shops and izakaya), this is a really wonderful and friendly spot that became our go-to when we spent a few days in Kumamoto.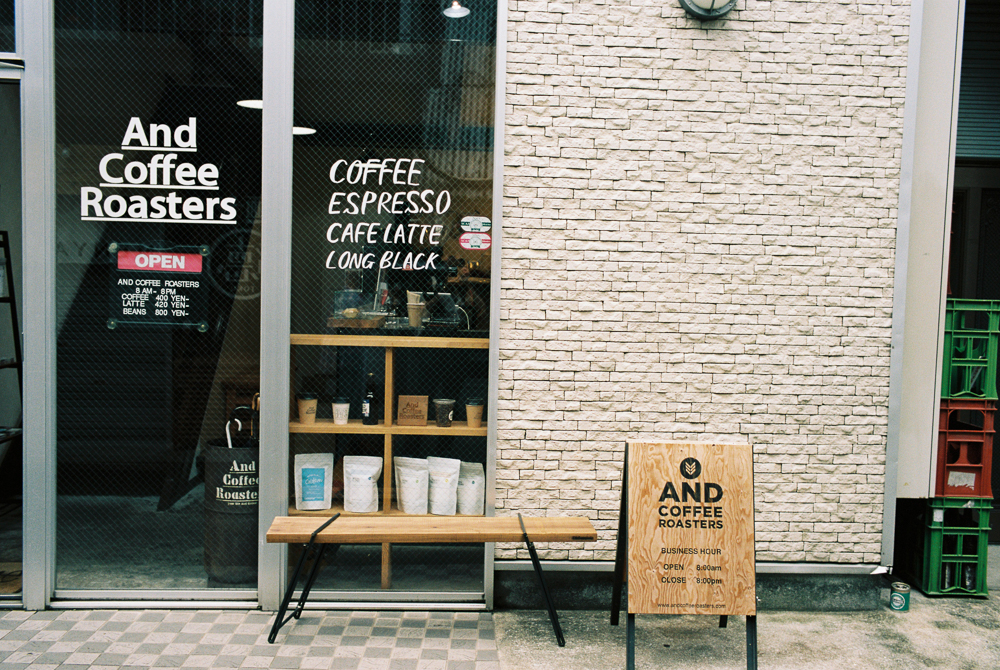 Service is wonderful, and there's some great seating upstairs, as well as a nice bench outside. We indulged in a number of cappuccinos, which were always excellent. Go if you're in Kumamoto (which is a wonderful city in and of itself).
Nagasaki
Coffee Hitomachi
Really charming hole in the wall, with the kindest owner, in the backstreets of Nagasaki. The street it is on is tiny, and so perfect for people watching as you rest a while under the red canopy.
Coffee is all made with siphon, so the choice limited to the type of roast, and is wonderful. Additionally, all cups are served in cups and mugs made by the owner's wife (at least as far as I can tell), making them both unique and tactile. You can buy both mugs and beans, both of which are perfect souvenirs. Honestly, this is such a charming place I cannot recommend it more highly.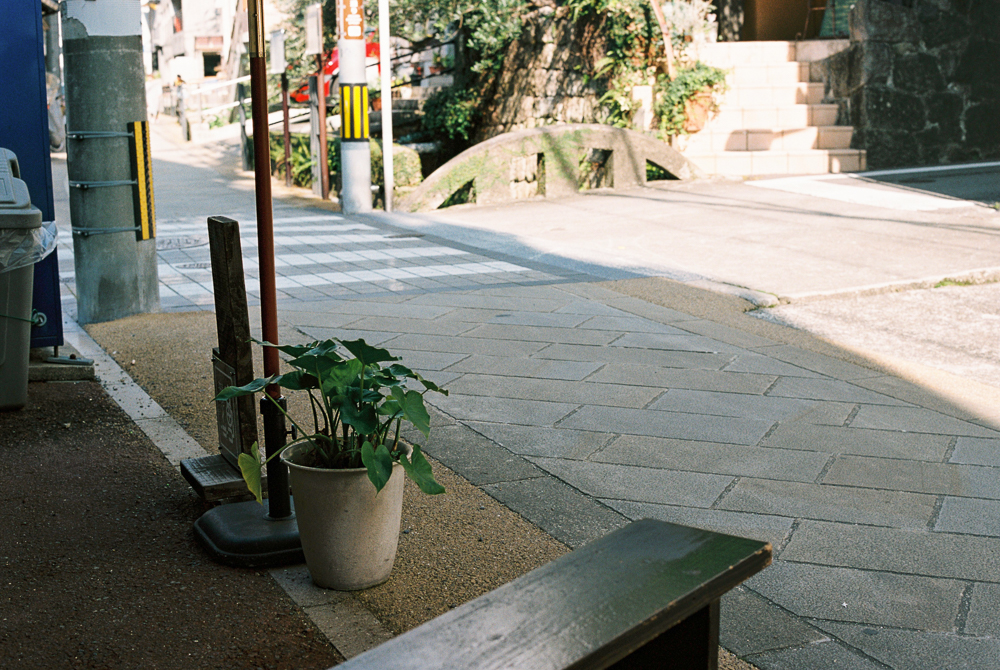 …and so that's a wrap for this review, there's going to be loads of places I have missed and haven't visited, and I haven't listed places I didn't like as really what's the point of that.
If you are interested in visiting any of these places, here's a map which might make things a little easier for you. Enjoy, and happy bean hunting.